£25.00
A MINISTRY OF TIME ADVENTURE
Deputy Director Lance Steele needs your help! A mysterious disppearance in the Middle Ages... are there dark forces afoot? Embark on a sprawling, immersive adventure from the comfort of your living room!
1-2 HOUR IMMSERIVE ADVENTURE
---
1–5 PLAYERS
---
AGES 8 AND UP
---
DIFFICULTY: MEDIUM
Agent Cleo works for the mysterious organisation known as the Ministry of Time... and she's trapped in Egypt in 1922! This looks like foul play... She's sent a package through time, desperately hoping it falls into the right hands. Can you save her?

The Egyptian Enigma is an escape room challenge contained entirely in one exciting package. Search through a mysterious series of envelopes, solve the puzzles and outsmart your enemies; all before the timer runs out!

Everything is in the package; documents, clues, secrets and traps that you'll have to navigate to save the day.
All you'll need is a device with an internet connection, a pen and paper to make notes, and maybe some friends or family to play with!

This immersive, storytelling experience lasts around an hour. You'll interact with characters and solve head-scratching challenges in a thrilling historical adventure that takes you all the way back to the time of the Pharaohs.

The Egyptian Enigma is the first installment in the Ministry Of Time series; adventures that traverse time and space, all from your own home!

All materials are 100% recyclable.
AN IMMERSIVE ADVENTURE
Explore, meet characters and solve puzzles!
Step back in time to the world of the Medieval Mishap; an entire English town in the year 1345! Connect with Agent Lance on your device, while you play the game in the real world. Talk to the townspeople, gather clues, and uncover the truth behind a mysterious disappearance...
STEP 1
Audio visual, cast
Full of documents, maps and cryptic messages from a time-travelling secret agent. What does it all mean?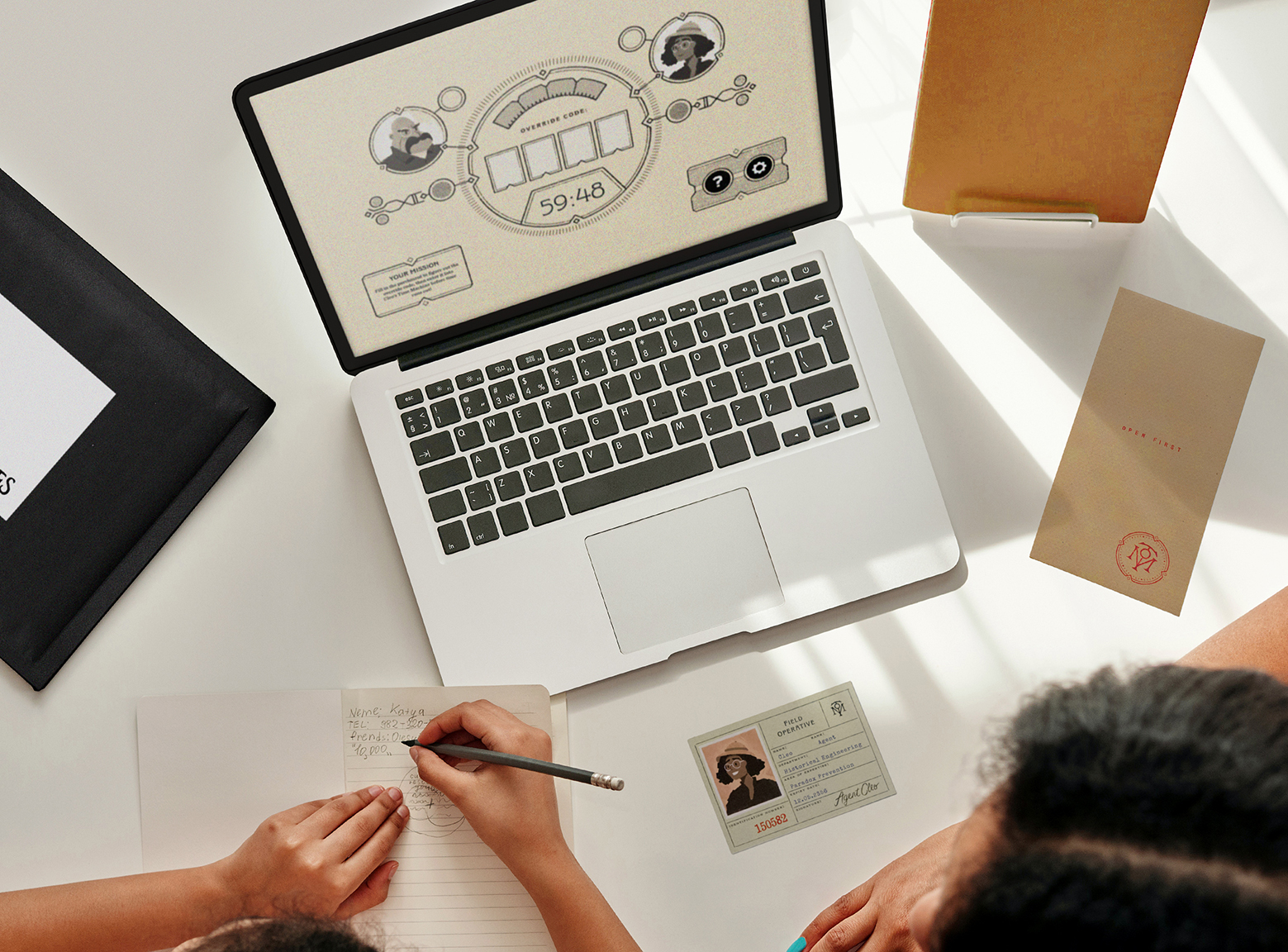 STEP 2
Gawjuss
Login with your personalised code. Meet and interact with memorable characters as you unravel the mystery.
STEP 3
Personalised
Play solo, or work together to crack the case. A riotously fun, escape room experience for the whole family.
Perfect for:
Adventurers aged 8 and above! We particularly recommend family groups, but it's suited for anyone seeking thrills and adventure!

How to play:
Your package will arrive in the post. Inside are all the clues you need to solve the mystery! Are you ready?

You'll need:
A table to set everything out, a device connected to the internet so you can connect to the Ministry Of Time. The bigger the screen, the better. A pen and paper to make notes. You don't want to deal with time travellers unprepared!